03 January 2013
Well helllllo my DARLINGS!
Sorry I've not been online in.... well let's not take account of the injury there hey! (Covers eyes face)
As you all know the past 18 months of my life have been horrific so I've been focusing elsewhere. ANYwayyyy I'm back now & intend to pop by and have a nose and say hi from time to time.
I intend to make 2013 a year FULL of happiness and amazing memories & I hope you will all join me on my journey

Thank you so much for your dedication to me even when I'm not around.
Mwah mwah mwah
Love from the 'red bottom boss'

xx
24 December 2012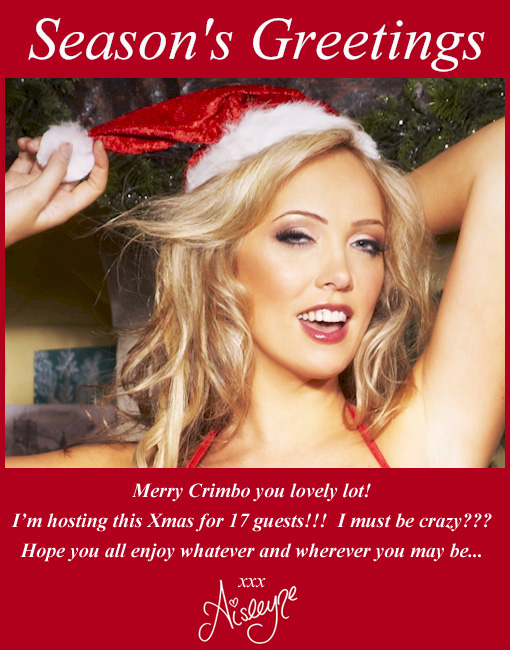 24 December 2011
Well, well, well. Christmas is upon us again and a New Year is about to start. Time really does seem to fly.
That's why it's so important to live each day as if its your last one. Remember, you only live once.
The past six months have been a mixture of joy and sadness for me.
On the work front, I've been very busy, with quite a lot of filming and TV work. Only a few bits have aired so far, most of it is scheduled to be seen in 2012. My lovely forum fellas will post the details as each show comes along, so keep 'em peeled.
On the personal side, its been a sad time, first with the death of Amy and then my uncle got news that he has terminal cancer from asbestos.
Amy's passing was terrible, so unexpected. What made matters so much worse were the completely untrue reports in the newspapers and by a showbiz journalist on breakfast TV that I'd been on benders with her in the days before. So having declined all requests for interviews, I suddenly found myself having to go on morning TV to clear my own name. It was a dreadful few weeks and its still a sensitive subject.
Amy was a beautiful soul with a huge heart - I miss her everyday. But like every beautiful butterfly, we are never blessed with them for too long as such beauty and kindness can't last in this world forever. I'm so proud that she still lives on in her music and her album is number one! That's my girl! Still rocking it from beyond the grave....
For those that have read my book, my uncle is the person who first took me in when I was forced from home at 16, and who looked after me until I found a place in a hostel. So I've a strong bond with him and he's very special to me. It's made me more aware of the need to spend as much time as possible with loved ones.
Looking forward to the New Year, I'm hoping to be moving into a new flat in January. With two flat purchases falling through so far due to time-wasting owners, I'm keeping my fingers crossed that I'll be getting the keys to this one without any more dramas!
Wishing you all a very happy holiday time and hoping you all have a fun 2012!
Lots of love as always

Ash
xxx
27 June 2011
Hi everyone
What a hectic first half of 2011!
Looking back, I suppose the main highlights must be the cinema release of 'Anuvahood' and my time in Dublin filming 'Celebrity Salon'.
There was a huge turnout in March for the premiere of 'Anuvahood'. Even better was that all the hard work by Adam Deacon, plus the talented cast and crew, was recognised by the film's major success at the box office
'Anuvahood' is released on DVD and Blu-Ray on 4th July. Let's try to get the film to No 1 in the DVD chart!
Much of April was spent in Dublin filming 'Celebrity Salon'.
Making 'Celebrity Salon' was hard work. It took two days of long hours and late nights to film each episode. But that didn't matter as I made so many new firm friends and was sad when filming was over, even though I was straight off on a holiday to Las Vegas with my girlies.
Then it was back to Ireland at the very beginning of this month for the programme's launch, followed by a hectic schedule which included TV appearances, attending the 'Bridesmaids' Irish premiere and judging 'Miss Universe Ireland'.
From all the tweets and messages I received, seems everyone had as much fun watching 'Celebrity Salon' as we all had making it!
On a personal note, I've moved home and also now have my baby Prince who always keeps me smiling - @princeMarni is his twitter...
So what's next?
Well, looks like the second half of 2011 is going to be just as interesting and varied as the first 6 months.
Loads I could tell you, but my lips are sealed....watch this space!!
Love always
Ash
xx
24 December 2010
Hey my lovelies
Hope everyone has a Merry Crimbo, and wishing you all a wonderful 2011.
I'm spending Christmas with my relatives - the family together opening presents and eating too much. I love it!
Thank you all so much for your continued support, you're the best. You've always been an inspiration to me and help me to aim higher all the time.
Looking back, this past year has been a mixture of sadness and excitement for me. Sadness at the end of Big Brother, which gave me the break for which I'll always be grateful. Huge excitement as I ventured into new areas, especially my first proper movie role with ANUVaHOOD.
I'm hoping that 2011 will offer more new challenges and from what's already planned for the first 3 months of next year, looks like that will be the case! During that period I'm due to front several promotions and campaigns, and I should also be filming another movie as well as attending ANUVaHOOD's premiere. Stay tuned to the forum where you'll be the first to hear about what's happening..
This year, instead of a Christmas Card, I've a little surprise planned for everyone over the holidays. All will be revealed shortly...........!!!!!

Love and blessings

Ash
xx