Aisleyne Launches Her Own Boot Camp
12 March 2014
Aisleyne has today launched her own boot camp, 'Aisleyne's Booty Camp'.
Located just over one hour from Kings Cross, Aisleyne's Booty Camp will offer personalised training based in an award winning, AA 5 Star Country House.
Here's the full press release with all the info: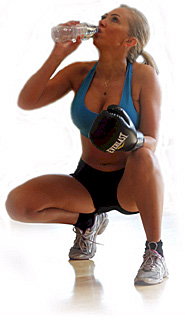 AISLEYNE LAUNCHES HER OWN BOOT CAMP
'AISLEYNE'S BOOTY CAMP'

From model to 'Big Brother' contestant to fashion designer, actress and writer, Aisleyne is always seeking new challenges. Now she's tackling arguably the 'toughest' with the launch of her own boot camp - 'Aisleyne's Booty Camp'
As the name implies, 'Aisleyne's Booty Camp' is specifically for ladies wanting to keep both fit and in shape; the weekend course is ideal for women with busy lifestyles. Bookings are now being taken for the first course from 16th May to 18th May 2014.
Quality training and hospitality every step of the way...
Aisleyne's Booty Camp offers a personalised keep fit programme by a mixture of military-trained instructors and personal trainers, while expert life coaches and hypnotherapists are also on hand to work with guests who wish to develop their mental resilience, too.
Guests will enjoy exclusive use of an award winning, AA 5 Star Country House, located in the middle of England, yet only just over an hour from Kings Cross.
At the end of a strenuous day of exercising, guests will be able to relax in a home-from-home environment. Bedrooms have large, light windows affording views over the grounds and countryside with private bath, TV/DVD, luxury bed linen and bathrobes, etc.
Delicious, healthy meals will be prepared by a published chef, using locally sourced produce. Guests have the opportunity to dine alfresco, weather permitting. Mid-morning and afternoon snacks will also be provided to top up energy levels.
And with Aisleyne as their hostess, guests are guaranteed evenings of fun and entertainment, making new friends and taking home wonderful memories.
Message from Aisleyne
"I decided to launch my own Booty Camp to provide ladies the motivation that so many of them are seeking to get fit and keep in shape."
"I was going through a bad time a few years ago, not sleeping properly, feeling sluggish and putting on weight. So I took the decision to pay more attention to my fitness and to healthy eating, and I'm so pleased that I did."
Since I started exercising, I've never looked back. My mind is clearer, I feel so much better and sleep easier at night
"I pay much more attention to my diet, too, but I still enjoy a nice treat because it's all about being sensible and realistic. No need to cut out everything."
"My intention is that ladies who come and join me on one of my Booty Camp weekends will leave feeling amazing and more focused, having made some lasting new friends"
Aisleyne's Booty Camp website:
www.aisleynesbootycamp.com