Aisleyne faces up to the future
09 March 2011
Aisleyne has come face-to-face with how cigarette smoking could make her look in the future.
The left-hand side of her face shows how a non-smoker will age naturally; while the right-hand side shows advanced wrinkles, limp hair and yellow teeth as a result of smoking. Her right lung is blackened and highlights the damage caused as a result of the tar that has built up over the years.
The photograph is one of a dramatic series taken to mark No Smoking Day 2011 (March 9) to show how a person who smokes will age over a 40-year period if they continue to smoke 20 cigarettes each day.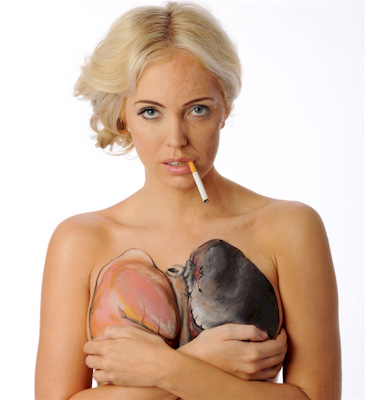 Aisleyne, had her first cigarette when she entered Channel 4's Big Brother house in 2006 and developed a 10 cigarette-a-day habit until she finally gave up more than a year later through sheer willpower and hypnotherapy.
Aisleyne said: "I was so shocked when I looked in the mirror to how my features had changed. I looked older, with loads of wrinkles and dull skin! It made me even happier that I stopped smoking before the effects kicked in."
"Since I quit smoking I feel so much better. My hair, skin and nails look and feel so much healthier and there's no smoky smell clinging to me. Once I put my mind to it I just did it and got myself into a health and fitness regime. I haven't put any weight on and I go to the gym regularly."
"It was important for me to be part of this campaign as it highlights how much damage smoking can do to our health, as well as our looks. No Smoking Day is the ideal day to give up smoking so you can feel better and look better. Join millions of others who are quitting on 9 March - good luck!"
Related items:
No Smoking Day - 10 March 2010