The following was penned by a FAKER during the final week of Big Brother 7
"EMOTIONAL ROLLERCOASTER"
No, not Aisleyne's, ours. Of all the housemates to ever have strolled through those doors, never have we had such an emotional attachment to one of them as we have done to her. Over time, we have witnessed a girl, with a slightly spiky air of arrogance, swoop into a hostile environment, sting the house bully with her sharp but accurate tongue, and challenge every viewer's prejudices, with her complex mix of "ghetto, rude girl", compassionate empathiser and an underestimated vulnerability.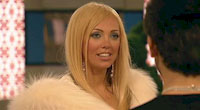 Great we all thought, another promo girl, hyped up and made up to secure a place in reality TV history as eye candy for typical male BB viewer. Yet from that first not-so-stereotypical outburst to Sezer many have been fascinated by her. Would she deliver? Oh yes, and so much more. Not totally giving up her toughened exterior, but underneath it all we could see this raw, unpolished diamond, mature and grow. She beat off the bullies, stood tall, and suddenly the floodgates opened to a whole different set of fans. No longer fitting that young stereotype, but a full cross section of society ready to look behind that toughened exterior and seek out what made this girl tick.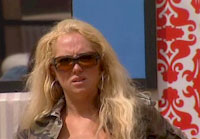 Over time, we have been, surprised, saddened, laughed, cried and cringed at this blossoming girl, who had already started on her long journey inside the house. What she doesn't realise, is that in starting that journey, she has taken so many of us along for the ride too. For all the twists and turns inside the house, there were many on the outside too. Housemates who were evicted for their vile behaviour towards her seemed to be 'congratulated' The sister shows of BB blatant bias toward certain housemates, the growing hatred toward her on these forums and audience members of the sister shows seemed to have been borne out of this bias, which by now wasn't only for certain HMs but against Aisleyne herself. No-one could really understand where this hatred was coming from. Sure, not everyone was going to like her, but the most venomous of things were being said against her. Why? I sill do not understand.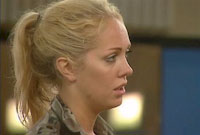 We now weren't just supporting one of the HMs, we were fighting for her. Every action, every word, every look, blink, sigh and hair flick were being scrutinised. We were forced into defence mode. In doing this we actually began to scrutinise her ourselves, and I think it was at that point I realised just how human she was, flawed yes, but how would I have reacted in that same situation? Every time I had to defend her or argue over a silly hand gesture, or bad edit in a highlight show, I found I was writing from the heart. I actually cared what was being written about and for her. She now wasn't just a contestant in a TV show. She was a human being who deserved more than all the hate. And as if to seal the emotional bond with her the heart wrenching story of her mother's abandonment emerges and we are hooked.
Fakers had now come into their own, and post after post of fantastic analysis and opinion swept the board. Some of these even swaying opinions of others who really had not looked in on Ais at that level before. They too now saw beyond her projected persona. And appreciated her complexity. The vile bitching by Jayne and Nikki made hard viewing. And now we were becoming angry at BB's reluctance to punish Jayne for her rule breaking. It almost seemed like Jayne was being "allowed" to influence the house against Ais for some reason. But the public spoke, and Nikki was evicted with 34% of the vote in an 11 horse race. Quite a significant result really, or so you would have thought.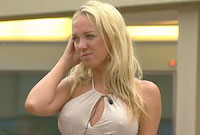 Big Brother continued the bias, and now seemed to actively participate and condone this hatred. Now, we witnessed something else, BB's more sinister side, the side that truly seemed to want to hurt her. The ex HMs lined up ready to "beat her up" "knock that ghetto princess's crown off". All cheered on by the host. This was going to be great TV, wasn't it? To top it all BB wanted to put back Nikki. All a bit contrived really, seeing as she was one of the HMs who were shown positive bias, and she also voiced obvious malice toward Aisleyne.
Now we had to face fear. Yep, we actually feared for Aisleyne, in an edge of the seat show we watched from the behind the sofa, preying for Aisleyne to find the strength to keep it together, whatever BB was going to throw at her. Letters of complaint were being sent of to whom ever it may concern about this latest engineered "car crash TV". The night of the re-entry and Fakers and fans alike felt sick at the thought of what may happen in there. One push too far from the rejected housemates and Aisleyne may well blow it. Yet who's fault would it have been? I doubt Endemol would have taken any blame, no, it would have been Aisleyne's fault, and BB would have been vindicated in their bias portrayal of her.
Much to the relief of her fans, she didn't bite. She actually wanted to see Nikki and Lea again, and why wouldn't she?
Ais wasn't up for eviction that week either, she also wouldn't be sent in to the lions den with 4 HM's who wanted her blood. Oops, BB you failed on that one, didn't quite go to plan did it? Oh, wait, It's Grace's birthday, and she'll be 21. Now, Grace hates Ais, what shall we do? Thinks BB, Ah, she wants to "tell a few people what exactly what she thinks". I wonder who she could be talking about? And lo and behold, Grace gets to spend 21 minutes in the main house. I wonder what Grace will do with her time? Blissfully unaware of the impending drama that is set up between the two girls, Ais watches grace walk in.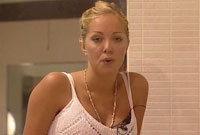 The look on Ais's face a picture, while at home, we all watch with a deep, pit of the stomach sickening nervousness. But Grace didn't go to plan either did it? Ais respects Grace's birthday, yet sticks determinedly to her principals that we saw emerging in earlier weeks and simply lets her feelings known. "I hope you apologised to Suzie" she says. She doesn't push it, but never crosses the line and we all sit back, relieved and so proud of our Aisleyne. She really hasn't performed in any way less than dignified.
Further rule breaks inside the house next door. Richard and Imogen being fed biased information in a pathetic attempt to sway opinions of Ais, by all the ex Hms. One of them will go back, and how will they react to Ais then? Simple, Richard cant even look her in the eye, he has been poisoned against her and will now start a new campaign to belittle Ais. Just like he did with Shahbaz.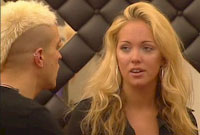 Ais now appears beaten. She is now so alone in the house, with no-one to ally herself with, totally ostracised from the group. While she sits sobbing in the garden because she didn't fall at Pete's feet and worship him, or she sits repeating self loathing words to herself in the belief that she really is a stupid pathetic failure who EVERYONE on the outside world detests. We watch through tear filled eyes. No, Aisleyne, you have been greatly wronged. While ALL the other Hms have had some indication that they are doing great on the outside, all you have heard is the boo's. Yet you are the only worthy winner in so many peoples eyes. Even some of those so against you in the past now see your situation and feel deeply for you.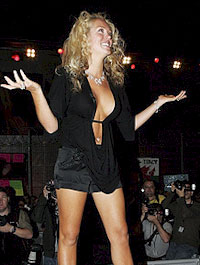 Through out all of this Ais has been accused of being "fake" These cries of "fake" fall on many a deaf ear because we just don't see it. She has been manipulated by both BB and the other housemates and just keeps on shinning. Any actress who provoked such an emotional reaction in their audience would have achieved something even the most talented of actresses still only dream of. Making the audience care about them that much is a real achievement, yet many of you would have us believe Aisleyne is not for real.
Many fans do not even watch BB for it's "entertainment" value anymore. We just continue to keep an eye out for our Ais. Aisleyne you have had the most profound affect on many people.
One more turn on the roller coaster to go. But this will be in great contrast to recent weeks. When you realise that the public really do like you that you are actually more popular than Nikki, Richard and possibly even Pete. Your elation will be mirrored throughout the nation.
jane72 - FAKER No 474 and so proud!